In its standard version, the TEX-O-flex coupling consists of 3 parts:

The female part is made of cast iron and is provided with resilient flexible elements made of EPDM. The hub is also made of cast iron and is connected with the claw ring, again made of high quality spheroidal graphite cast iron. The flexible elements are loaded in compression and shear simultaneously, providing high elasticity of up to 5° at nominal torque in an ambient temperature of +20° C.



The elasticity of the TEX-O-flex coupling is linked to the proven shape of its elastic elements and their accurate positioning in the Female half . As a result, axial loads on bearings are severely reduced and forces created by radial, axial and angular misalgnment are neutralized.

DS Version : with spacer.

A spacer is inserted between the two parts of of the male half.
This design, based on standard components, allows various Distance Between Shaft Ends as required, typically, on pump drives. It allows is the dismantling of the driven rotor without shaft displacement.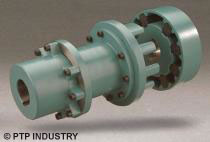 D2 version: two piece
This version uses the same female hub as in the standard version. The hub and adapter are replaced by one piece reducing the overall length.