Our Hydrodynamic Fixed-filling coupling Hydro-flow is designed to facilitate the start of heavy loads under high inertias. It allows the Electrical motor to quickly reach its nominal speed and then limiting the peak in current at start.

A solution towards awareness
Compared to other alternatives for starting high inertia equipments, our hydrodynamic coupling Hydro-flow is an economical solution during implementation and, on usage, ecologic through the Energy savings it brings in.
It also limitates the starting torque of Electrical motors and absorbs punctual overloads on the machine. This features preserves both equipments connected.
100% compatible with our -flex couplings

Hydrodynamic coupling Hydro-flow is available with various output couplings from our -flex range:
It is also available with a V-Belt pulley output type HV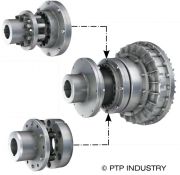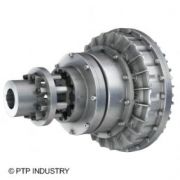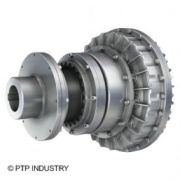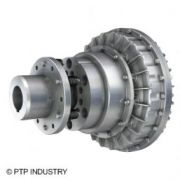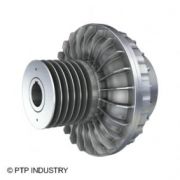 Know more
Designed for performance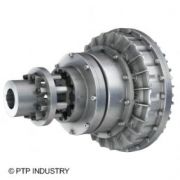 Hydrodynamic coupling Hydro-flow includes two basic elements: a pump and a turbine , which are both fitted with radial blades. Pump is made of aluminium and is connected to the hollow shaft through splines. Ball bearings mounted on the hollow shaft are mounted in removable steel bearings, for easy maintenance. 
The turbine  is bolted to a half-case. The mating face is sealed. The aluminium delay chamber R may be bolted to half-case. The mating face is also sealed.
Designed for savings
Compared to soft starting through an electronic frequency inverter, our hydrodynamic coupling Hydro-flow offers many advantages:
No oversizing of electrical motor is needed to allow to start equipment under full load. Therefore, the asynchronous motor can be used at full power where it offers its best efficiency.
The motor will be connected directly to the power supply network which will remain safe from electromagnetic interferences generated by electronic frequency inverters.
The motor will work at its nominal speed. This will avoid overheating on transitional speed or linked to harmonic high frequencies created by frequency chopping by the Frequency Inverter.
A Planet Friendly solution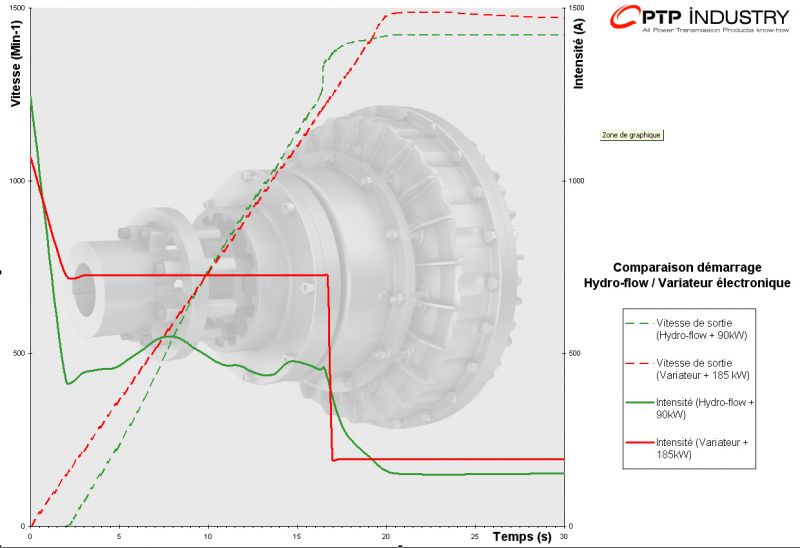 If we compare the use of an hydrodynamic coupling Hydro-flow to the use of an electronic frequency inverter for the start of a high inertia conveyor, we will notice the following points highlighted in the graph juste beside:
Common Frequency inverters will limit usable torque beteween 95 and 100% of nominal torque of the motor whereas starting and maximum torque of a standard electrical motor usually stand up to 2 or even 3 times the nominal torque. Therefore, to get acceptable starting time, the motor combined with a frequency inverted must be at least 2 times more powerful, meaning it will also be more expensive on purchase.
When starting the equipment, the Current absorbed by a Frequency Inverter solution will then also be much higher as variator are consuming 2 to 2.5 times the motor nominal current on start. Also note that, in most cases, a frequency inverter solution will allow one only start whereas a hydrodynamic coupling Hydro-flowone will accept 3 or more consecutive starts, an unquestionable advantage in case of trouble on the installation.
On constant running, the motor connected through a frequency inverter driving half of its nominal power will see its efficiency drop by 2 to 4 %. Combined with the efficiency of the Frequency Inverter, the loss will be higher than 10% compared to the solution using an ideally sized motor coupled to a hydrodynamic coupling Hydro-flow. For instance, on an avaerage size intallation requiing 22kW, the overconsumption will be of 2.2 kW per hour and, then, 18 kW per work shift turning into 4MW per year for one shift. This overconsumption will boom up to 100 MW (100 000 kW!) for an installation requiring 110Kw working in 3 shifts, 365 days per year !