The PENCOflex coupling is made up of two cast iron hubs (female and male) onto which pins fitted with rubber bushes are mounted. The pins, made up of ground steel, have a cylindrical shape up to size 460. Pins of sizes 145 to 200 are axially fastened by a circlip and a nut; those of sizes 235 to 460 by two circlips. Pins from coupling size 510 are tapered and tapped, and attached by a screw and washer. A circlip restricts the bush translational motion.
The rubber bushes are vulcanized onto wear-resisting brass liners which are mounted on the pins with a clearance. This allows them to rotate freely and move slightly lengthwise. The stress exerted onto the bearings is thus significantly reduced. A unique scalloped barrel shape of the bushes guarantees a uniform distribution of loads, even in case of misalignment, thus limiting the bending moment resulting from the radial force on the pins. This ensures increased durability of both bushes and pins.
Dynamic behaviour
The combined elasticity and damping capacity of the rubber bushes reduces both shock loads and critical speed. Compressed by an increasing torque, the bushes become stiffer due to the scalloping, thereby reducing the resonance effect at critical speeds.
Version PB: with brake drum 


This version is made up of two parts: 
the standard female hub,

a male hub with a brake drum.
Version PD : avec brake disc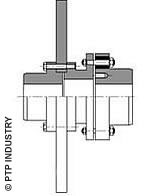 This version is made up of four parts:
the standard female hub,
an intermediate pin holder,
a brake hub,
a solid brake disc clamped between the latter two parts (ventilated brake disk also available on demand).
This State-Of-The-Art design ensures highly reliable braking in harsh conditions. 
Our PENCOflex PD couplings meet high demanding security standards for haulage, cranes and elevators.