With its basic version BT, the ECOflex coupling consists of two identical coupling halves made of EN-GJL250.

Each coupling half comprises a number of claws which fit in the recesses provided in the other half, but which are separated by the high quality flexible NBR elements. The flexible elements are only loaded in compression. 
Depending on the coupling size, either several individual elements or a single circular element is used.
Read more
BTB Version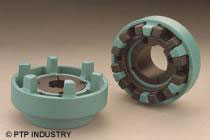 This version uses conical bushes Magic-Lock with tightening by screw between leather and flesh. Trays are available with the tightening of cartridges or by the inside ( BTB.-11) or around ( BTB.-22). A combination of these two types of trays is possible ( BTB.-12).
BTP Version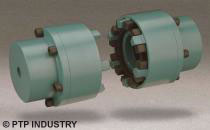 This version with brought reported hubs suits particularly in the training of pumps. 
She allows to uncouple without modification of the alignment of trees.
BTJ Version
This version with tray(plateau) in light alloy is available in size 4 with bore of stock.